English
Raaed Developments debuts its distinguished project ROOTS in New Sohag under the slogan "The Ideal Family Home"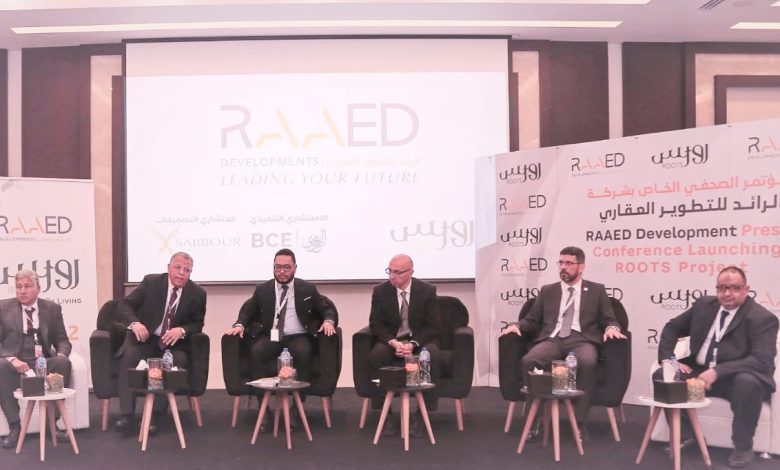 With more than 30 years of experience, Raaed Developments announced the launch of its flagship project, ROOTS, in New Sohag, with a total investment of EGP 1.8bn during a press conference held by the company to announce details of the project, in the presence of company's officials, journalists and media professionals.
Chairman of Raaed Developments Mohamed Khalafallah stated that Upper Egypt region has a strong and real demand for all residential projects, but this demand is not met because market investments are concentrated in new cities surrounding Cairo. Accordingly, the company decided to introduce its distinguished project in New Sohag City to meet the demand for properties with international standards in this project, and in line with the company's previous work as well as needs of target customers.
Khalafallah said that the integrated urban project is located on 87,000 sqm in a distinct and prime location in the heart of New Sohag.
ROOTS is an integrated modern compound that provides its residents with luxury, quality of life and privacy. It also provides its tenants with the concept of a family home that brings together all family members in one place, which is commensurate with the needs of target clients in New Sohag, he noted, pointed out that the project includes all services and activities that achieve interdependence between family members.
He further explained that the compound includes 33 residential buildings with a total of 496 units, comprising 12 villas with an average spaces of 500 sqm, penthouse units, duplexes, a model for family housing, besides, a commercial mall, a social club, swimming pools, and sports fields. Additionally, the ROOTS project encompasses units with different spaces that meet the needs of all customers, with spaces ranging from 140 to 270 sqm.
The project's built-up area doesn't exceed 50% of the total project area while the rest is allocated for green spaces and services that provide it residents with a different life model that achieves psychological comfort and tranquility for them, he disclosed.
The company's chairperson added, "Market studies, the company conducted, focused on meeting all needs of customers in the project they wish to live in, as customers in Upper Egypt prefer the family home model, so our project came under the slogan "The Ideal Family Home" to provide units for those looking for privacy or family gatherings."
He revealed that cooperation has been made with a number of distinguished success partners in various disciplines to develop a modern and unconventional project. Sabbour Consulting office was contracted to design the project and supervise its construction, which is one of the largest engineering consulting offices operating in local market, in addition to cooperation has been made with Behairy Consulting Engineering headed by Shaker El Behairy, who has a previous business and experience in engineering designs.
Moreover, the company has cooperated with some specialized contracting companies known for their experience, competence and strong business precedent to construct the project, Khalafallah noted, highlighted the company's keenness to develop a distinguished project for clients in New Sohag. Furthermore, the company plans to accelerate construction rates in the project to deliver it according to the specified dates with clients.
The company hired the best human cadres and expertise working in real estate development sector to work for the company in all the company's internal specializations such as managers of engineering and financial departments, marketing, sales and customer service, with experiences of not less than 20 years. Hence, the expertise of this team is used in developing a great project that meets customers needs and preferences, also befits the name and business precedent of Raaed Developments, he said.
Raaed Developments specializes in developing integrated urban projects in several new cities, especially New Sohag city, and that the company is an extension of its activities in the Kingdom of Saudi Arabia, where it started its work 30 years ago in partnership with a Saudi side. Moreover, Raaed has succeeded in working efficiently in field of urban development in the KSA.
He stated, "The urban renaissance that Egypt witnessed during the recent period supported the company's direction to work in the Egyptian market."
Raaed Developments is the latest in a group of companies owned by businessman Mohammed Khalafallah. A group includes companies with various investment activities, including general contracting. It is represented by Al-Massa United General Contracting Company and operates in the Kingdom of Saudi Arabia. The group also includes Aseel Riyadh Elevators Company and a group of specialized companies in workers recruitment and employment in Egypt, the UAE, Saudi Arabia and Bangladesh.